Olitec Router Admin Login and Router Setup: Olitec is popularly known for being one of the finest companies in the solar industry but they also have their sub-companies in computer networking and technology solutions. And that means they also produce routers, modems, switches, and Internet wires which are used widely all across homes, offices, institutes, and even IT firms as well.
One of the key elements of their router being eloquent, their speed performance is pretty good when compared to the price range. At the same time, they have also adopted the latest technology of providing dual gain bandwidth along with different frequencies so that more speed can be used by different devices connected through WiFi.
How to Setup Olitec Router from scratch – Olitec Router Configuration Guide
If you have bought an Olitec router then complete the hardware setup so that no wires or connections are lost in order to ensure no problem occurs while following the guide.
Olitec Router IP Login Process: Like any other router company, even Olitec has an internal IP address which is 192.168.0.250 and we will show you first how you can log into their admin panel.
Open the browser and then enter the IP address 192.168.0.250 into the address and click on the go option or else press the enter button from the keyboard to continue
Then, automatically the login page will popup on the same window and here you have to enter the required details

In the username, you have to type "admin" and for the password type "olitecadsl", then click on the login button to load the web configuration panel.
How to configure Olitec Router Wireless Settings – Internal Setup Process
It was quite easy to log into Olitec Router Admin Login, the router admin panel and now you simply have to ensure that below steps are followed for the router to be configured precisely.
Basic Settings: Click on WLAN Settings from the left sidebar and then click on Basic Settings, on this page make the below change to enable the wireless settings.
Enable Wireless Mode: Check this option
Then click on the Apply option and this will make the wireless settings enabled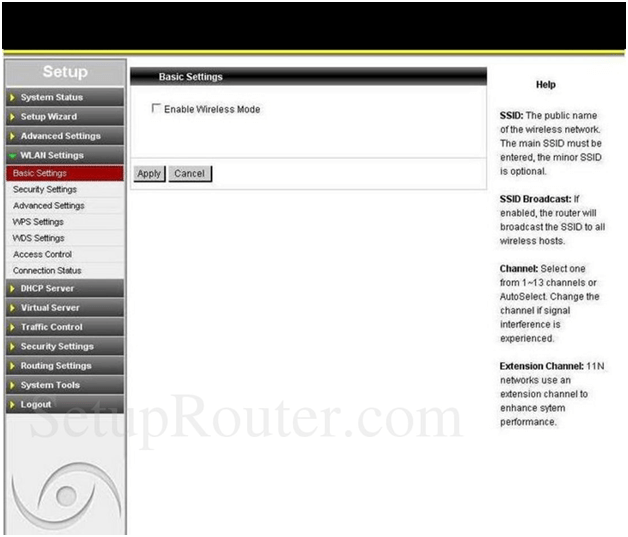 Advanced Settings: Again click on the WLAN Settings and then under it click on Advanced Settings, on this page you have to make the settings as per the below instructions.
BG Protection mode: Select "Auto" option
Basic Data Rates: Select "1-2 Mbps" option
Beacon Interval: Enter "100"
Fragmentation Threshold: Leave this option empty
RTS Threshold: Leave this option empty
TX Power: Enter "100" here
WMM Capable: Select "Enable" option
APSD Capable: Select "Disable" option and then click on the Apply button to continue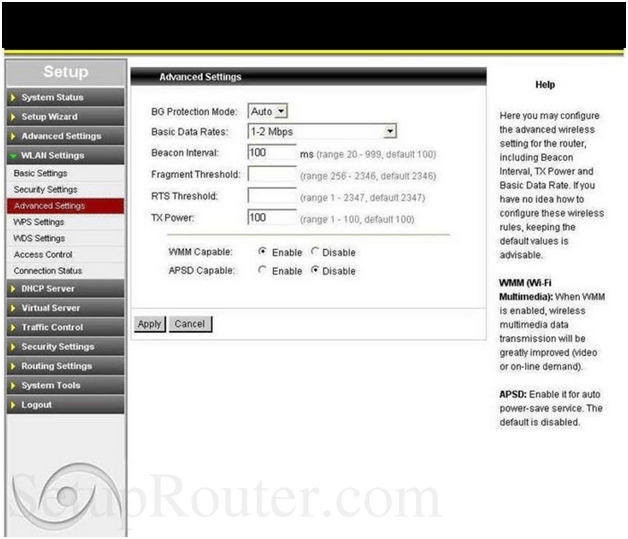 Security Settings: Click on the WLAN Settings from the left sidebar again and this time click on Security Settings options and then make the below said changes.
Encrypt Type: Select "WEP" option
Default Key: Select "Key 1" option
WEP Key 1: Here you have to enter your password and select "ASCII" option
WPA Algorithm: Select "AES" option
Pass Phrase: Enter any pass phrase, this will be your router network password
Key Renewal Interval: Do not enter anything here and then click on Apply option finally
Once you have followed the above guide then you can always configure the Olitec Router Admin Login in no time.